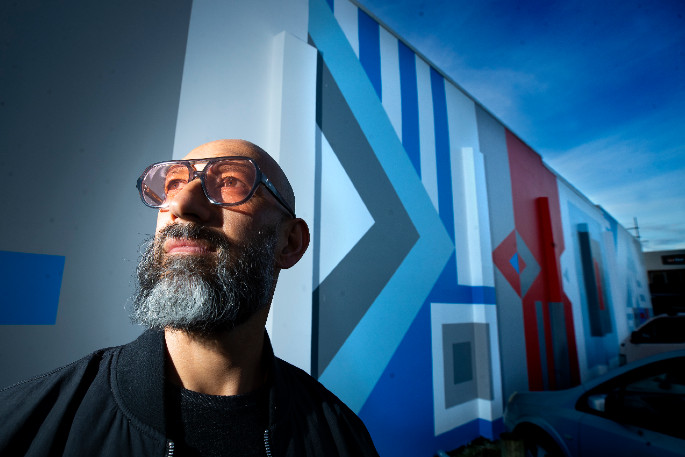 https://www.sunlive.co.nz/news/271048-mural-brings-harmony-to-hectic-place.html
Kotahitanga - unity. It is not only the name of Kelcy Taratoa's new mural, it represents the space it occupies and the process behind painting it.
The bold red, blue, white and grey geometric shapes adorn the wall opposite Tauranga Art Gallery in Masonic Park.
Right in the heart of the city, the bus interchange, library, art gallery and Our Place all surround the park. These are places where people come together and also transit through.
"That's where kotahitanga comes in," says Kelcy. "Being a communal space it's meant to be inclusive and that's its intention."
The space is also historical, and being from Tauranga Moana and of Ngai Te Rangi and Ngati Ranginui descent, Kelcy wanted to incorporate that into the design as well.
"The scope of the CBD is in my whakapapa," he says. "My blood is literally in that whenua, that land, through my ancestors and being aware of their relationship to Tauranga, Te Papa - that particular area itself in the CBD was part of that response to the space as well," he says.
"Looking at my ancestors approach to art-making, when they looked at the natural world, they very much saw themselves as not having dominion over it, but being part of the natural world.
"They simplified the natural world into basic geometric shapes, but also organic shapes."
Whilst painting the mural with his wife Mel, they were visited by three school groups each day, which was organised by the education team at the gallery.
Over the fortnight Kelcy says he told the intermediate and primary school children stories and had a lot of fun.
The Toi Ohomai tutor also ran a one-day workshop with Year 13 students.
"It's a public space," he says, "and the public needs to feel that they've been a part of the making of the artwork. So for me, including schools was really important.
"It was about encouraging them to be imaginative. Pie in the sky thinking is what our world needs.
"It needs young people who are willing to be imaginative and creative and have a vision for our world that is positive. It's inclusive and tolerant of everyone."
Kelcy also wants the mural to provide people with a moment of reflection as they walk by.
"Art's always intended to be slow and our world is constantly speeding up," he says
"There's an expectation that when we look it at, we want to get it straight away. We want that instant gratification, but art will never do that.
"Art's intended to slow you down, to suspend you within its grasp."