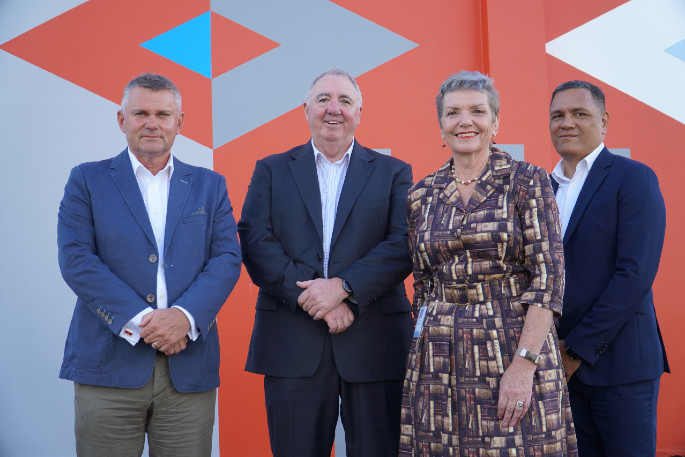 https://www.sunlive.co.nz/news/269974-creating-buzzing-artistic-city.html
Council commissioners are hoping Tauranga's arts community will be very vocal in having their say on the future of the city.
The Long Term Plan consultation period ends on Monday, and Anne Tolley, Shadrach Rolleston, Bill Wasley and Stephen Selwood are hoping to hear back from everyone involved in a sector which can often be regarded as having less importance than roads, housing, rubbish and sewage.
The Western Bay of Plenty's art map has been evolving rapidly over the last decade, turning Tauranga into a vibrant hub of bubbling creativity. The Incubator at Tauranga's Historic Village has been one of the driving forces behind that, thanks to individual creative community champions, along with the region becoming a popular place for muralists, filmmakers, musicians and artists to live and work.
"Come and talk to us about it," says Anne. "We could be a great city. It's not just about pipes and roads. It's really important to us that there's a strong signal from the arts sector."
"We want to hear about all the good things happening, what you think of what's in the LTP and what you think can be improved too," adds Bill.
Stephen, who regards himself as 'the infrastructure guy', believes there's not much point in having the physical platform of a city built unless you've got the social infrastructure as well.
"We need to realise that our history, our arts, our culture and our heritage are all the things that make a truly great city," he says.
"We need to celebrate that and provide the means, be it film, arts, culture, music," says Stephen. "As an outsider coming in, I hear a lot from people about cost and rates. But we're not having a really sound conversation in the community about the benefits. Infrastructure and social infrastructure are complementary."
Where artists go, others often follow. Big creative breakthroughs are also a social process, often occurring when a diverse population comes together. Groups need spaces and facilities to express their dance, music and culture.
The five most creative cities in the world, according to the BBC, are Mexico City, Sharjah, Belgrade, Dakar and Bangkok, with a vibrant youth culture fuelling a lot of that creativity.
One of the challenges Tauranga faces is losing young talented musicians as they leave to study elsewhere. The library downtown needs replacing, while a civic centre can also tell the stories of our people and region and the downtown area has the potential to become the CCD – a central cultural district with the creative community turning it into the heart of the city, and the city becoming the heart of the region.
There's a big blank canvas waiting to be painted on and the commissioners are asking for the arts community to pick up a brush and paint their vision for the future on it.
Submissions to the Long Term Plan are due by 4pm on Monday, June 7. Hearings begin a week later with the LTP adopted by July 30. Submissions to the LTP can be sent in online via: