Mural brings harmony to a hectic place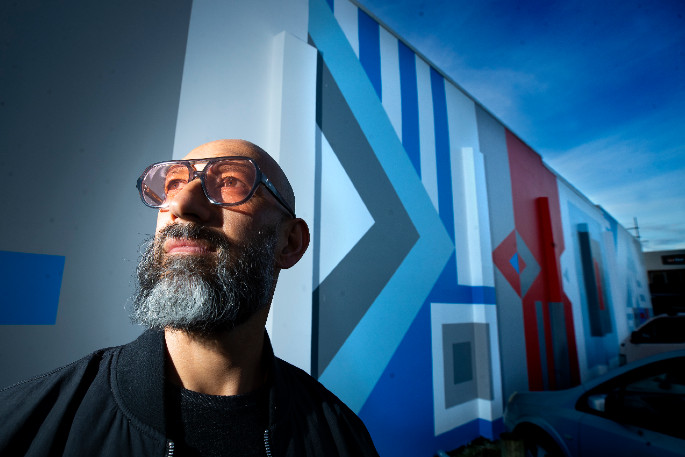 https://www.sunlive.co.nz/news/271048-mural-brings-harmony-to-hectic-place.html
Kotahitanga – unity. It is not only the name of Kelcy Taratoa's new mural, it represents the space it occupies and the process behind painting it.
The bold red, blue, white and grey geometric shapes adorn the wall opposite Tauranga Art Gallery in Masonic Park.
Right in the heart of the city, the bus interchange, library, art gallery and Our Place all surround the park. These are places where people come together and also transit through.
"That's where kotahitanga comes in," says Kelcy. "Being a communal space it's meant to be inclusive and that's its intention."
The space is also historical, and being from Tauranga Moana and of Ngai Te Rangi and Ngati Ranginui descent, Kelcy wanted to incorporate that into the design as well.
"The scope of the CBD is in my whakapapa," he says. "My blood is literally in that whenua, that land, through my ancestors and being aware of their relationship to Tauranga, Te Papa – that particular area itself in the CBD was part of that response to the space as well," he says.
"Looking at my ancestors approach to art-making, when they looked at the natural world, they very much saw themselves as not having dominion over it, but being part of the natural world.
"They simplified the natural world into basic geometric shapes, but also organic shapes."
Whilst painting the mural with his wife Mel, they were visited by three school groups each day, which was organised by the education team at the gallery.
Over the fortnight Kelcy says he told the intermediate and primary school children stories and had a lot of fun.
The Toi Ohomai tutor also ran a one-day workshop with Year 13 students.
"It's a public space," he says, "and the public needs to feel that they've been a part of the making of the artwork. So for me, including schools was really important.
"It was about encouraging them to be imaginative. Pie in the sky thinking is what our world needs.
"It needs young people who are willing to be imaginative and creative and have a vision for our world that is positive. It's inclusive and tolerant of everyone."
Kelcy also wants the mural to provide people with a moment of reflection as they walk by.
"Art's always intended to be slow and our world is constantly speeding up," he says
"There's an expectation that when we look it at, we want to get it straight away. We want that instant gratification, but art will never do that.
"Art's intended to slow you down, to suspend you within its grasp."
Creating a buzzing artistic city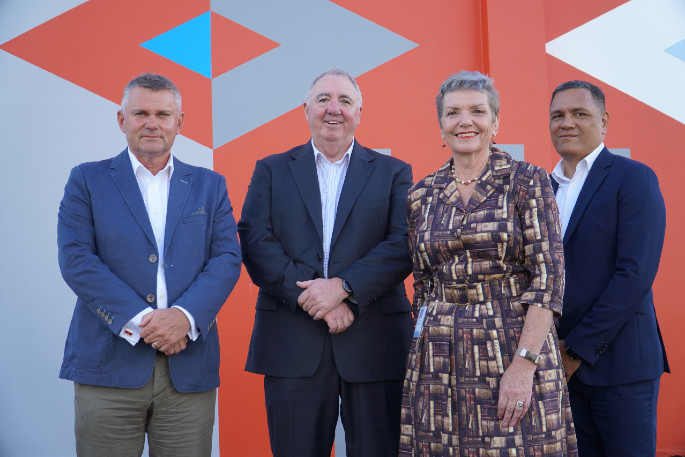 https://www.sunlive.co.nz/news/269974-creating-buzzing-artistic-city.html
Council commissioners are hoping Tauranga's arts community will be very vocal in having their say on the future of the city.
The Long Term Plan consultation period ends on Monday, and Anne Tolley, Shadrach Rolleston, Bill Wasley and Stephen Selwood are hoping to hear back from everyone involved in a sector which can often be regarded as having less importance than roads, housing, rubbish and sewage.
The Western Bay of Plenty's art map has been evolving rapidly over the last decade, turning Tauranga into a vibrant hub of bubbling creativity. The Incubator at Tauranga's Historic Village has been one of the driving forces behind that, thanks to individual creative community champions, along with the region becoming a popular place for muralists, filmmakers, musicians and artists to live and work.
"Come and talk to us about it," says Anne. "We could be a great city. It's not just about pipes and roads. It's really important to us that there's a strong signal from the arts sector."
"We want to hear about all the good things happening, what you think of what's in the LTP and what you think can be improved too," adds Bill.
Stephen, who regards himself as 'the infrastructure guy', believes there's not much point in having the physical platform of a city built unless you've got the social infrastructure as well.
"We need to realise that our history, our arts, our culture and our heritage are all the things that make a truly great city," he says.
"We need to celebrate that and provide the means, be it film, arts, culture, music," says Stephen. "As an outsider coming in, I hear a lot from people about cost and rates. But we're not having a really sound conversation in the community about the benefits. Infrastructure and social infrastructure are complementary."
Where artists go, others often follow. Big creative breakthroughs are also a social process, often occurring when a diverse population comes together. Groups need spaces and facilities to express their dance, music and culture.
The five most creative cities in the world, according to the BBC, are Mexico City, Sharjah, Belgrade, Dakar and Bangkok, with a vibrant youth culture fuelling a lot of that creativity.
One of the challenges Tauranga faces is losing young talented musicians as they leave to study elsewhere. The library downtown needs replacing, while a civic centre can also tell the stories of our people and region and the downtown area has the potential to become the CCD – a central cultural district with the creative community turning it into the heart of the city, and the city becoming the heart of the region.
There's a big blank canvas waiting to be painted on and the commissioners are asking for the arts community to pick up a brush and paint their vision for the future on it.
Submissions to the Long Term Plan are due by 4pm on Monday, June 7. Hearings begin a week later with the LTP adopted by July 30. Submissions to the LTP can be sent in online via:
Local Focus: City Art Walk app available for free
City Art Walk app a 'love note to the city' | Local Focus
See and learn about art on the streets of Tauranga with a new 'art walk' app including work by Kelcy Taratoa, Askew and Mr G.
Web Link: https://www.nzherald.co.nz/bay-of-plenty-times/news/local-focus-city-art-walk-app-available-for-free/35YPNHB3S2GMTEKHOFV6R46JP4/
@cityartwalktga https://www.instagram.com/p/CPG8AnRBB_i/
https://cityartwalktga.stqry.app/en/
By Gavin Ogden, Video Journalist, Tauranga, NZH Local Focus gavin@localfocus.nz
A new "art walk" app has launched in Tauranga, with the aim of better connecting the public to local artists and their stories.
"Tauranga city centre has a number of amazing artworks that have been created over the last 30 years," Tauranga arts adviser Sonya Korohina said.
"But the artworks have maybe become background to people when they walk past them. There's no 'in' to them and in fact, they've just become wallpaper.
"I recognised a real need for an app, almost as a love note to the city to enable people to discover more about the stories about the artworks and to start moving around the city, having a new appreciation and seeing these artworks with fresh eyes."
The self-guided tour takes around an hour to complete and features 20 works of art found in Tauranga's CBD, side streets and laneways.
The app is aimed at everyone – including local school children.
"What we're trying to do is grow our audience, and work with different demographics," said Korohina.
"It was great to see them taking the experience they had within the Tauranga Art Gallery where they were creating artwork, out on to the street where they met Kelcy Taratoa who talked to them about his practice creating public artworks. And then they took the app and went round public artworks and learnt more about the works in the city."
Tauranga Art Gallery hopes the app will reach people who might not visit an art gallery.
"The app's a wonderful accompaniment to a number of the activities that Tauranga Art Gallery has developed in recent years," said gallery director Stephen Cleland.
"We've worked with artists such as Askew to take our programme out of the gallery and on to the streets so it can reach a larger audience.
"We also recently partnered with the city council to identify Kelcy Taratoa as a key artist to create a ginormous mural in the Masonic Park. The app is a really wonderful way to enable better access to the cultural fabric around the city – from artists' temporary projects to artists' more permanent ongoing exhibitions."
Local businesses are also set to benefit.
"In developing the app we wanted to develop it as a cultural tourism tool," said Korohina. "So if it's your first visit to Tauranga and you were going around you, might want to know where to eat and drink, or where a gallery is, or where a cinema is."
Future updates are already being planned.
"As more artworks, like Kelcy Taratoa's, are installed within the city centre, they're going to be added to the app too, so it can only grow and our community can keep on dipping in over and over again to the experience."
The City Art Walk app is available for free thanks to Creative New Zealand and local law firm Cooney Lees Morgan. It has English and te Reo Māori options.